COVID-19 update (current as of 9/6/20):
We are excited to finally announce that we will be resuming puppy and basic obedience classes at Rockhampton Dog Obedience Club! We also have a NEW CLASS– adolescent basic obedience for dogs aged 6-10 months who have missed out on puppy classes during restrictions.
THE FOLLOWING SESSIONS WILL BE AVAILABLE:
Tuesday July, 7th – 645 pm puppy class (< 5 months of age) new intake
August
Monday 730 pm – basic obedience class (Monday)
Monday 730 pm – basic obedience class Advanced (February members who have partially completed classes)
Tuesday 630 pm – puppy class
Tuesday 630 pm – basic obedience class (Tuesday) *First 4 weeks at 630pm, then the final 4 weeks occurs at 745pm
Monday and Tuesday 745 pm – adolescent basic obedience class (6-10 month old dogs with no prior training) for 4 weeks (8 sessions)
PLEASE NOTE:
1) Puppy classes go for 4 weeks ($100); Basic obedience classes go for 8 weeks ($140). More details can be found on our website
2) Membership fees are waived for existing members for 2020/2021
3) March and April members will be given first choice for either a Monday OR Tuesday class, followed by enquires. All enquiries will be contacted, but feel free to contact us again and nominate a session
4) We will try our best to accommodate all requests, but please get in contact ASAP if you are interested as numbers are capped
5) There is no fun class scheduled at this stage. If you wish to do more obedience, you may be able to join our basic obedience class Advanced on Monday nights
6) Before committing to outdoor training during COVID-19 restrictions, please ensure you are happy with the following precautions and requirements implemented by the club:
All members are highly encouraged to have the COVID Safe App on mobile phones
Only one handler per dog (unless arranged prior) or they will be asked to wait in their car
Members will be required to book into a session (you are not permitted to just turn up)
Members are not permitted to attend if they have any flu-like symptoms
Membership forms and payment to be done prior to commencing classes (if possible, by emailing through the membership form and electronic transfer of payment)
Members details (Name, Address, Phone Number, Email) will be recorded after each session and provided by Dogs Queensland
Physical distancing – cones and markers will be used to nominate areas for members to stand during classes and training. There will be no physical contact and trainers will use their own lead if they wish to demonstrate with a participant's dog
Hygiene and cleaning

Hand hygiene – i) bathrooms have handwash and correct hand washing signage will be erected; ii) hand sanitiser will be located at the club house and at two other designated spots (at a minimum) with signage present
Frequently touched areas (clubhouse doors, light switches etc) and equipment to be cleaned after each training session
---
Whether you are simply seeking a venue to socialize your dog or work towards competition, our club has a variety of options available.
Classes run from February - November each year, with new classes starting on the first Tuesday of each month.
COURSE BOOKINGS
To help us cater for class sizes, please book a place in the Puppy Class or Basic Obedience Class if you are new to the club, by sending an email to [email protected]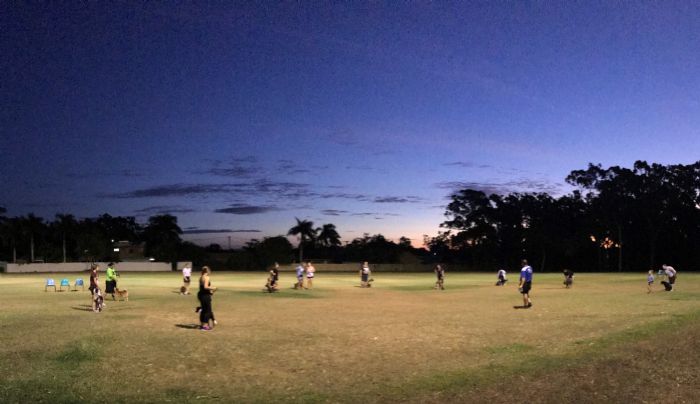 The Puppy Class is for pups between 3 and 5 months of age. Pups need to have had their second vaccination.

The Basic Obedience Class is for pups and dogs of 5 months of age and over.
Costs:
Class

Duration

Cost

Puppy Class

4 weeks

$ 100
(includes annual membership fee)

Basic Obedience
(includes Class 1 and 2)

8 weeks

$ 140
(includes annual membership fee)

Fun class (foundations, fun obedience and tricks)

On-going

$ 5 per week

Rally-O Classes

8 weeks

$80
Any member/s who complete puppy class and move on to Basic Obedience get a $70 discount (that is, it's $70 for the 8 week course after doing puppy class).
Please note:
To join in on Monday, Thursday, or Saturday nights (agility or obedience) or Sunday morning (tracking), members will need to achieve the required level of obedience with their dog. Please ask your instructor if interested in competition levels.

Rally-O classes will be offered throughout the year when there is interest.
​​New members:
Please arrive 15 minutes early, to allow time to join up and settle your dog.

Please note that we do not have EFTPOS facilities.

You may like to download and fill in the membership form and bring it with you.
​​Existing members:
Please arrive a few minutes prior to course commencement time.
This website is regularly updated - please re-visit the site in future to keep informed of club news, eg classes available.
2020/2021 Membership Form available here
---
Regular training times:

Monday: From 5:30pm
Tuesday: From 5.30pm (see "classes" page for exact class times)
Thursday: From 5:30pm
Saturday: From 4:00pm
Please note that the by-laws of the Rockhampton Regional Council applies to Duthie Park, in particular that no dogs may be off-lead within 25m of classes, training or trials held by the club unless they are participating. See here for details.
Contact Details
Rockhampton Dog Obedience Club
Rockhampton, QLD, Australia
Email :
[email protected]
113636 Visitors